Bestuurders deur die ID of naam van die toestel
Bekende toestelle:163074949
Die laaste bekende bestuurder: 15.12.2019
Review of video card ASUS ENGTX560 Ti DC/2DI/1GD5
ASUS ENGTX560 Ti DC/2DI/1GD5 model does not belong to the category of the best among the GeForce GTX 560 Ti, but the product is quite unusual, and deserves some attention. It comes in a big box. Delivery includes: adapter DVI / D-Sub; adapter mini-HDMI/HDMI; two power supply with two 4-pin molex to PCI-E 6-pin; CD with software; instruction. Video card is made in dark colours: PCB and enclosure of cooling system in black. Externally it is very similar to many of other ASUS video cards.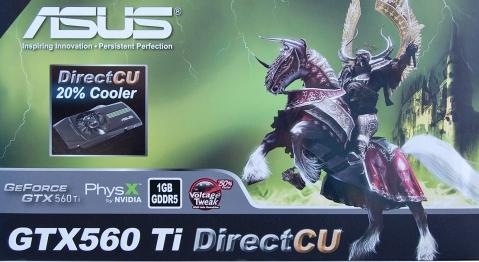 The cooling system is the radiator using three pipes instead of two. Heat pipes have direct contact with the surface of the GPU. They fit tightly in the grooves of the aluminum base. Blowing fan is placed between two raised sections of the radiator. And for a good blow of extreme areas it requires powerful air flow, which means higher fan speed. There is Everflow T129215SU fan with diameter of 92 mm (actual diameter of the blades a little less). The PCB is different from the standard and made in the original design.
If an ordinary GeForce GTX 560 Ti has the four-power system GPU implemented, this model has six phases. Control functions are assigned to the controller SHE ASP0907. The graphic processor GF114-400-A1 is closed by a large heat-spreading lid. One gigabyte of memory chips made by eight Hynix H5GQ1H24BFR T2C. The video card works at standard frequencies: 823/1645 MHz for the ROP and Shader domain GPU, 4008 MHz for the memory GDDR5. Core supply voltage is 0.987 V. In this instance ASIC Quality is equal to 88.3%. The fan speed is below the level of 1920-1950 rev / min.
With increasing speed to a maximum overclock was 955/1909/4762 MHz up with increasing voltage to 1.062 V. Fixing the fan speed by 51% (2010-2100 rev / min), the stability at frequencies 891/1782/4762 MHz at a voltage of 1.0 V is achieved.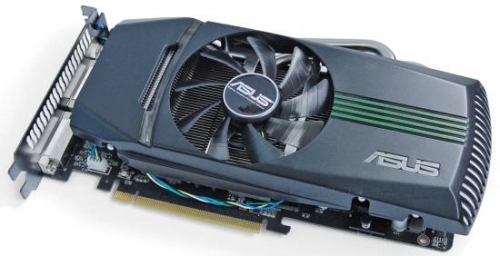 Test of video card by different game showed the following results. In Crysis: Warhead
standard frequencies help to overclock GeForce GTX 560 Ti to the frequencies 891/1782/4762 MHz. Game Hard Reset prefers cards NVIDIA, so the model manages to outperform Radeon HD 6950 and Radeon HD 7850. The first yield of 4-5%, the second loses 6% of the average fps and 13% minimum. Even higher frequency of MSI R7850 Power Edition 2GD5/OC does not provide this advantage over a simple video adapter GeForce GTX 560 Ti in this test. At the maximum overclock ASUS is a tiny bit faster than running on a standard Radeon HD 7870 frequencies. In the test Metro 2033 ASUS once again lagging behind, unable to provide a comfortable frame rate at such a heavy graphics settings. Radeon HD 6950 has the advantage of 12%, Radeon HD 7850 wins 15%. To catch up with the last opponent the model can only by overclocking to 955/1910/4762 MHz. In the test The Elder Scrolls V: Skyrim, scene using anti-aliasing and texture of high resolution memory load can be up to 1.4 GB or higher. And, ASUS is only among participants with 1 GB on-board, all Radeon are twice as much video buffer. At the maximum overclock ASUS shows a slight advantage over the Radeon HD 6970. In Witcher 2: The Assassins of Kings the card is inferior to 9-11% Radeon HD 6950 and 6-9% more than the new Radeon HD 7850. When overclocked to 955/1910/4762 MHz can be slightly ahead of the nominal adapter works in MSI R7850 Power Edition 2GD5/OC.
Observed video card shows the same economy, its appetite almost meets the demand of Radeon HD 6970. And at the maximum acceleration GeForce GTX 560 Ti is easily catches GeForce GTX 570.
ASUS ENGTX560 Ti DC/2DI/1GD5 can be called a worthy representative of the series GTX 560 Ti. Video card is equipped with good cooling system that adequately copes with the load at standard frequencies at a moderate noise level. Expressed overclocking potential is not very high, despite the enhanced power system. The level of performance fully meets the current price positioning. The new Radeon HD 7850 is noticeably faster in some games, but is more expensive. ENGTX560 Ti DC/2DI/1GD5 still can be a candidate to be bought in its price category. The graphics performance can be increased by 8-10% without increasing the blowing fan speed, which is enough to catch up with some more expensive versions.