Search for drivers by ID or device name
Known devices: 165022367
Latest known driver: 23.12.2020
Cooler Master Launches High-End Cosmos SE Chassis
Cooler Master, a Taiwanese designer of prime-quality PC hardware, started selling its fresh Cosmos SE (codename COS-5000-KKN1) chassis. The product is developed in mid-tower form-factor and positions itself as a miniature copy of the earlier released Cosmos II full-tower model. The latest entry distinguishes itself by an extraordinary design and an unbelievable capaciousness. The steel and aluminum case has got a totally black coating (interior and exterior); it features 264x569x524 mm dimensions.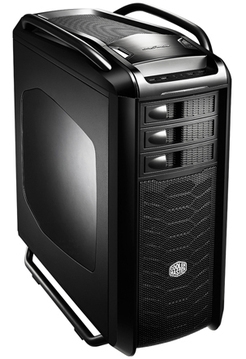 The Cosmos SE is delivered in two framework variations: with absolutely blind side panels and with a stylish acrylic window. In order to provide comfort during transportation, Cooler Master has furnished the chassis with convenient carrying handles. The frontal facet is rich in six USB ports (a pair of 3.0 and four 2.0 ports) and in a dedicated button for the fan backlight adjustment.
This chassis model supports standard ATX and even larger motherboards (micro-ATX and E-ATX), as well as quite lengthy graphics cards (up to 395 mm) and quite high CPU coolers (up to 175 mm). Its internal layout is ready to accept three 5.25-inch external drive racks, a couple of 2.5-inch internal drive racks, and eight internal 3.5-inch drive bays with removable frontal racks. Expansion facilities are secured by means of seven PCI expansion slots.
To continue, the chassis is initially furnished with three onboard fans with removable dust filters. If there is a need, the user might replenish this set with several more fans. Additionally, it's feasible to install 240/360 mm heatsinks to enforce the cooling process. The retail price of Cosmos SE makes up $170.