Search for drivers by ID or device name
Known devices: 165022367
Latest known driver: 23.12.2020
Intel Offers the CNVio Interface as a Substitute for PCIe and USB in Wireless Modules
SoC Intel Gemini Lake products, Cannon Lake processors, as well as Intel 300-series chipsets for desktop Coffee Lake CPUs will get builtin CNVi (Connectivity Integration) modules. It's already clear, that these modules will contribute to Intel platforms wireless connectivity in Wi-Fi and Bluetooth networks.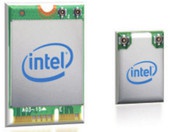 CNVi obtains the Wi-Fi 802.11ac (and lower) MAC media access controller, MAC Bluetooth 5 controller and the wideband Bluetooth 5 modem. Radio-frequency Wi-Fi and WiGig components will stay as the discrete CRF (Companion RF) interface with a wideband Wi-Fi/WiGig modem and necessary high-frequency circuits/filters.
At present, the SoC/CPU/south bridge hold several wireless platform parts, which saves costs, simplifies design and solutions developing. However, the Intel company suggests using the CNVio interface and Wireless AC 9560 modules (available in M.2 2230 and M.2 1216 form factors) of its own making instead of PCIe and USB. We doubt whether it'll be possible to replace Wireless AC 9560 with an alternative third party module, as far as CNVio openness is still questionable.