Search for drivers by ID or device name
Known devices: 165022367
Latest known driver: 23.12.2020
Welcome Specialties by PowerColor – AXRX 580 4GBD5-3DHDV2/OC and AXRX 580 8GBD5-3DHDV2/OC Graphics Cards
PowerColor continues to broaden its video cards range and releases two novelties of the Radeon RX 580 line – Red Dragon V2 OC of the 4 and 8 GB memory capacity. Codenames of these devices are AXRX 580 4GBD5-3DHDV2/OC and AXRX 580 8GBD5-3DHDV2/OC.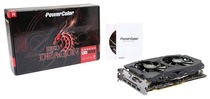 Frequency rates of 4 GB and 8 GB Radeon RX 580 Red Dragon V2 OC differ. The sample with 4 GB GDDR5 features the 1,350/1,750 (7,000) MHz (core/memory) values, and the model with 8 GB buffer VRAM operates at 1,350/2,000 (8,000) MHz. The factory core clock equals to 10 MHz, however, practically the difference may be greater owing to dynamic overclocking technology peculiarities of the PowerColor cards and the reference Radeon RX 580 sample. The manufacturer has not overclocked memory chipsets.
The Red Dragon V2 OC cooling system is designed with at least one copper nickel-plated heat pipe, an aluminium plates array and two 80 mm fans. PowerColor AXRX 580 4GBD5-3DHDV2/OC and AXRX 580 8GBD5-3DHDV2/OC are approximately 25 cm long and 12 cm wide.
The 8-pin PCI-E Power connector ensures auxiliary power (up 150 W) supply. Image output is delivered through DisplayPort 1.4 (x3), HDMI 2.0b and Dual-Link DVI-D interfaces.