Search for drivers by ID or device name
Known devices: 165022367
Latest known driver: 23.12.2020
GamerStorm Baronkase Liquid – A Case with a Cooling System
Introduction
The case of GamerStorm Liquid is focused on the wide circle of customers, using the Captain 120EX liquid cooler in combination with a compact design. Thanks to its metal and glass exterior, and also RGB-elements, Baronkase Liquid becomes a very interesting competitor in the market.
BARONKASE LIQUID is a new compact all-metal case with an upper compartment for the power supply and an integrated liquid cooling system based on a 120mm radiator that supports the installation of ATX form factor motherboards. Allows the installation of full-format video cards after removing the branded metal plug on the rear panel. BARONKASE LIQUID is equipped with a multi-channel illumination system with a manual knob on the front panel. The side panel of tempered glass, fixed with screws with soft washers, opens the view of the inner space of the case.
Overview
We are pleased to talk about Baronkase Liquid from GamerStorm, which once again combines a body with liquid cooling AIO. Unlike other cases of DeepCool/GamerStorm, the integration between these two elements is not so extensive, but by installing a 120 mm heat sink Baronkase Liquid strives to please middle-level users. The case is available in black and white color variations.
The case comes in a fairly simple cardboard box with the name on both sides. On the sides you can see technical characteristics and some marketing functions, as well as openings to facilitate transportation. Color sticker will let you know which version is in the box.
You get a set of black screws and a lot of zippers for Baronkase Liquid. Because the enclosure also includes an AIO that is essentially identical to the GamerStorm Captain 120. Also there is a power supply bracket, if you want to install a full-sized ATX card inside the case.
This body mainly consists of metal and glass. There is a handle above or a lid to give it a visual effect. But it does not mean at all that without it the case looks boring. On the contrary, its clean contours will please many users who like minimalist design.
There is a simple metal mesh dust filter to prevent getting dirty inside. The back of the case looks quite traditional.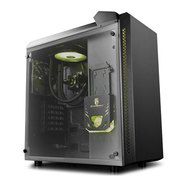 How it looks like
Baronkase Liquid comes with a basic panel made of glass so you can see every square centimeter of its interior. The panel is fastened with four knurled screws. On the opposite side the cover is completely metallic, painted in the corresponding color.

Looking at the top of the Baronkase, we see that the case is equipped with a large grating that can accommodate a radiator installation of 240 mm or even 280 mm. Naturally, by default, there is installed a 120-mm Caotain AIO radiator. The metal filter protects against dirt and dust.

The interior at first glance is quite simple, but there are many unique elements. On the one hand, there is a flow indicator, which is under the SSD bracket. This area is equipped with built-in LEDs, which are clearly visible through the glass panel.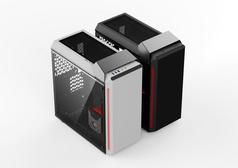 You will find another 2.5-inch disc tray, as well as several Velcro strips for easy cable management. If you look closely at the back of the flow indicator, you will see where the LEDs are located and how the indicator goes into the rest of the cooling system with liquid.
Looking at the front of the Baronkase Liquid, you will see a grille above the compartments for hard drives. They consist of two separate trays, which can contain 3.5-inch or 2.5-inch compartments. There is a perforated metal splitter that is equipped with a small hatch on which you can install another SSD, and it can also be removed to provide space for a longer GPU. However, this will only be possible if your power supply unit is short enough.


GamerStorm Baronkase Liquid in black is sold for $140, and in white - for $150.

Advantages
+Excellent build quality.
+Built-in multi-color elements.
+Built-in liquid cooler Captain 120 with RGB elements.
+Synchronous lighting of the pump, radiator fan, power indicator and flow indicator.
+Fully metal interior design.
+Very compact housing for full ATX.
+Filters from dust on top and bottom on magnets.
+It can hold up to five disks, which is enough for most users.
+Two options for placing the PSU for ATX and mATX.
+Ability to install long graphics cards up to 340 mm.
+A handle that can be removed when it is not required.


Disadvantages
-RGB elements can not be expanded and controlled by the motherboard.
-Long sides can "collide" with long graphic cards.
-The installation of the power supply from the front is a bit complicated.