Search for drivers by ID or device name
Known devices: 163074949
Latest known driver: 15.12.2019
Review and testing of coolers GlacialTech Igloo H46 PWM and Igloo H58 PWM
The company GlacialTech Inc. known as a producer of cheap cooling systems aimed primarily at the lower and medium price segment. They are intended solely to cool the non-overclocked CPU. At the same time, GlacialTech has already made attempts to produce more efficient coolers that can cope with cooling of processors with high heat. It was the Siberia and Alaska, and F101 even before. Developing on its trend, the company has recently released two new models aimed at the medium price segment. It is about Igloo H46 PWM and Igloo H58 PWM.
Both coolers are available in the same decorated cardboard boxes, each on the right side shows the pictures of coolers and a list of supported platforms. On the other side of packaging there are specifications and key features of cooling systems. Packaging for both models are the same: it includes a steel universal clamping plate (backplate) with an adhesive base, two pairs of mounting with screws and key, two pairs of wire staples for installation of fans and installation instructions. In addition, the cooler comes complete with a large tube of thermal paste high GlacialTech IceTherm II with a thermal conductivity of 8.1 W / (m * K).
The warranty period for the model produced in China is equal to one year. There is a model of GlacialTech Igloo H46 Silent Fan at 1200 r / min without the support of PWM, but the Igloo H58 PWM is available in only one version. Outwardly, nothing extraordinary or unusual new Igloo does not stand out. Bright yellow fan impellers, contrasting with its black frames, attach coolers a perky look. Cooling systems are of a tower type with copper heatpipes and aluminum fins. Dimensions of Early Igloo are up 160-130-75 mm and weight 560 grams, while the older model is more headroom and heavy – 175-147-89 mm and 840 grams. In the Igloo H46 PWM there are four heat pipes and they have a diameter of 6 mm, and in the Igloo H58 PWM there are five of them, each — 8 mm in diameter. The thickness of the aluminum plates on both coolers is 0.35 mm, and the intercostal distance is 1.6 mm.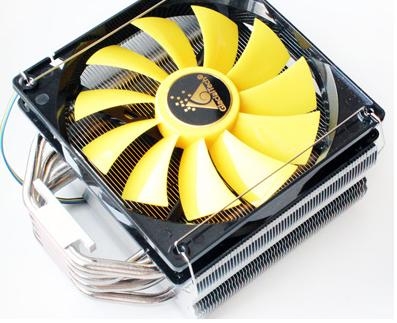 Due to the large number of plates in the radiators and their size, the total area of the radiator is quite decent for its class: it is about 7300 cm2 for Igloo H46 PWM and an impressive 11 600 cm2 for Igloo H58 PWM. Heat pipes are placed in the body of radiator with an offset relative to each other in order to more evenly distribute the heat flux along the edges and to achieve greater efficiency.
In the case with Igloo H58 PWM it is obvious that the extreme heat pipes do not work nearly as much even for the CPU heat spreader, as the AMD FX. Ideally this would suit the cooler with four 8-mm tube technology HDT2 (without gaps between the tubes), but, apparently, for GlacialTech is not yet available. Model Igloo H46 PWM is equipped with a fan 120x120x25 mm with yellow seven bladed impeller and Igloo H58 PWM has a 140-mm fan with a glossy eleven bladed impeller of the same colour.
The two «turntables» are equipped with PWM-control and rotate in the range of 800 ~ 1600 (± 10%) / min and 700 ~ 1400 (± 10%) / min for the Igloo H46 PWM and Igloo H58 PWM, respectively. Maximum airflow and fan noise are about the same as the type of bearing — Ultra Entering, as well as its life — 50,000 hours.
In terms of electrical characteristics of the fans are very alike — their maximum power consumption shall not exceed 3.36 and 3.6 W. Igloo H46 PWM and Igloo H58 PWM compatible with all modern platforms, except for LGA2011. It is unlikely that such a cost for coolers can be considered as disadvantage. The installation process of both GlacialTech coolers models is identical, moreover, it is described in detail in the instructions.
Both new GlacialTech — Igloo H46 PWM and Igloo H58 PWM — are not bad products, in general, relevant to its price class. Youngest Igloo H46 PWM demonstrates a higher level of efficiency than the former leader in this price range — Thermalright TRUE Spirit 120. In addition, Igloo H46 PWM is able to beat a competitor by low noise level, unfortunately, senior Igloo H58 PWM could not boast of that.