Search for drivers by ID or device name
Known devices: 163074949
Latest known driver: 15.12.2019
Uncompromised PC Chassis AeroCool DS Cube Review
The Dead Silence (hereinafter DS) chassis series, developed by AeroCool, now boasts a really offbeat representative: the DS Cube. It is primarily famous for an unusual form-factor. This is not a mini-tower, since its compact exterior does not match spacious interior, ready to house full-format components. The other peculiar feature pertained to the model is a decreased noise level. Altogether, the final user receives an uncompromised PC chassis with a stylish design and contemporary layout. Let's see what other facilities this 'Cube' might offer.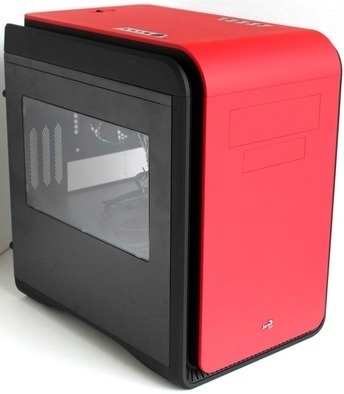 Basic Specifications
AeroCool DS Cube features the following specifications:
— dimensions: 411x265x391 mm, weight – 7 kg;
— chassis: cover – steel/plastic, side window (optional), detachable top panel, color variations – red, black, black-and-white, white, orange, and gold-shinning;
— supported motherboard formats: mini-ITX, micro-ATX;
— number of supported expansion cards: 4;
— storage: 1x 5.25-inch, 1x 3.5-inch (external), 2x 3.5-inch and 2x 2.5-inch drives (internal);
— I/O: 2x USB 3.0, 2x USB 2.0, two audio slots (In/out);
— cooling: one 120 mm preinstalled rear fan (or 140 mm), one 200 mm preinstalled frontal fan (or 120 mm, 140 mm), two optional fans on the top (120 mm or 140 mm);
— shipping assets: user's guidelines, a dozen of cable couplings, a diagnostic speaker, eight screws for fans, four screws for PSU, an adapter from internal USB 3.0 to USB 2.0, eight screws for 3.5-inch drives, eight pads for 2.5-inch drives, sixteen screws for 2.5-inch drives, eighteen screws for the motherboard, eight racks for the motherboard, along with the adapter for their installation.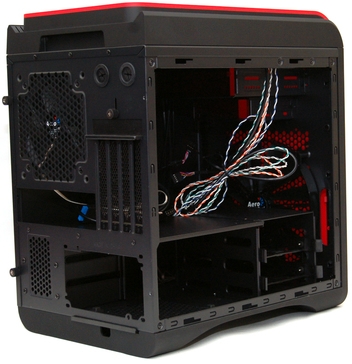 Design Peculiarities
The DS Cube's external design resembles a solid cube with rounded corners. The frontal, top and bottom facets are made of plastic with soft-touch coverage. The blind frontal panel offers one 5.25-inch and one 3.5-inch bays. Right-side panel is blind, while left-side one might be blind or with a transparent acrylic window. The top panel is 90% a removable lid, fixed by a latch; it might be solid or grid-like, depending on whether you use optional fans or not.
Control keys are located on the top panel edges: a pair of 3.5 mm audio sockets, Power button with blue LED, Reboot button, and HDD/SSD activity indicator on the left, as well as four USB ports on the right. The chassis' base is made of plastic. The whole framework is held in place by square rubber stands.
Ventilation is organized due to dedicated hollows along all edges of frontal and top facets. Side panels and expansion slots planks are fixed with the help of high-quality screws with plastic heads. The panels are made of thick steel that prevents their deformation. The rear panel is equipped with two notches for liquid-cooling hoses.
Internal Layout
AeroCool DS Cube is thought to support mini-ITX and micro-ATX motherboards, CPU coolers of 190 mm in height with the top fan localization. The maximal length of supported graphics adapters equals to 320 mm (on condition of using a stock 200 mm frontal fan); if the customer decides to replace the pre-installed fan by a thicker fan model, the maximal length of the cards should not exceed 315 mm only. At the same time, the maximal length of the PSU should not surpass 160 mm.
The layout is divided by a horizontal partition. The top section accommodates the motherboard, graphics cards, and 3.5/5.25-inch drive bays. The bottom section houses a PSU bay and bays for 2.5/3.5-inch drives. Horizontal motherboard localization boasts a number of privileges. For instance, it better withstands an increased loading from CPU cooler and provides a convenient placement of adapters, which, this way, do not hide PCI-e slot.
PSU bay is equipped with vibration-proof pads. This allows the customer to fix the unit in different directions: with top or bottom fan localization. The 3.5-inch frontal bay features sliding carriers with vibration-proof pins. A set of cables from the frontal panel embraces four standard loops, HD Audio cable, two USB clogs. PCI plugs are well-ventilated and convenient.
Cooling
The chassis accommodates two pre-installed fans. Both of them get power from usual three-contact power connectors and MOLEX. The 120 mm fan's initial speed equals to 500 RPM at 5 V; at 7 V rotational speed rises to 700 RPM, while the maximal speed makes up 1000 RPM. The noise level ranges from 34 dB to 41 dB at the top loading. The 200 mm fan is able to achieve 700 RPM only, producing up to 43 dB noise. Herein, the starting rotational speed makes up 400 RPM at 6 V.