Search for drivers by ID or device name
Known devices: 165022367
Latest known driver: 23.12.2020
Universal CPU Cooler Zalman CNPS9900DF Review
Zalman keeps on developing high-end cooling systems with a radial arrangement of plates. Its latest product, CPU cooler CNPS9900DF, is considered to be universal in terms of compatibility and implemented facilities. Still, some IT experts view this model as a modification of previously launched Zalman CNPS9900 MAX, although with two fans. In spite of visual resemblance, the company tried to design a truly uncommon cooler, with remarkable specifications and reliability.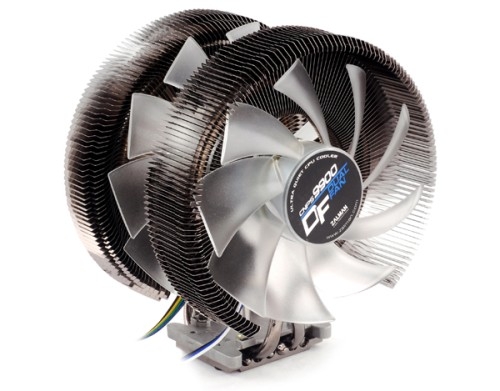 Framework Peculiarities
Zalman CNPS9900DF is distinguished by an unusual framework. It's not a traditional vertical tower, as long as heatsink ribs feature fan-like location relative to the central axis of symmetry. Such approach provides for a comprehensive heat dissipation over all key motherboard components due to absence of frames on fans. Heat pipes embrace the cooling plates in a circle, then bend at 90 degrees, piercing the base. At first sight it seems that the framework involves six heat pipes, but at more intent look it becomes obvious that this cooler houses only three composite pipes which pierce the base twice.
The general cooler's framework consists of two parts: frontal and rear. The frontal heatsink section covers 110 mm fan and accommodates one heat pipe. The rear heatsink accommodates two radial heat pipes which enlarge the dissipation area immensely. A larger 130 mm fan is reliably fixed between the two sections. It should be mentioned that each section contains 134 plates with stamped company's logo. The heatsink base is made of nickeled cooper and a bit uneven surface.
As it was mentioned above, model CNPS9900DF houses two fans with blue LED. The frontal fan (ZE1225BSL) features nine ribs and employs three-contact connection socket. It is void of speed controller and rotates at 1000 rpm all the time. The other, central fan (ZP13525BLL), employs four-contact connection socket and is monitored by PWM controller. Its rotational speed might fluctuate within the measures of 900-1400 rpm, depending on the loading.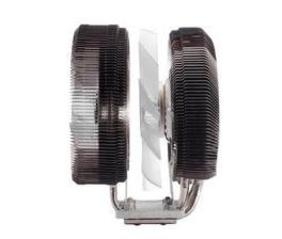 Delivery Kit
Cooler Zalman CNPS9900DF is delivered in an attractive cardbox that contains all data about the product. All system components are packed in a plastic blister; installation kit is packed separately from fans and a heatsink. A set of accessories is represented by installation guide, universal booster plate, hexagonal screwer, a set of screws and gaskets, individual fixing brackets for Intel and AMD platforms, dedicated adapter to connect two fans to a single socket, and brand thermal compound Zalman ZM-STG2.
Compatibility and Installation
This CPU cooler is compatible with all up-dated Intel and AMD platforms. The installation begins from the mounting of necessary fixing brackets to the cooler's base. The availability of dedicated planks allows the user to install the cooler in four different directions when it goes about Intel's LGA 2011, 1333, 775, and 1155 sockets. However, when we speak about AMD's AM3/AM3+, FM1, and FM2 sockets, it can be installed only in two directions (back and forth). Further on, it's necessary to fix special studs on a booster plate and mount it on the motherboard. The final part presupposes the installation of a cooler into the CPU lid with the help of thermal compound and screws. It might take some time, since the base is not even enough to be properly integrated.