رانندگان با ID یا نام دستگاه
شناخته شده دستگاه: 165022367
آخرین شناخته شده راننده: 23.12.2020
Indiegogo Introduces Its Breakthrough Development, Namely the Q-Stick Breloque Computer
Indiegogo presented its groundbreaking product, being the Q-Stick breloque computer. The developers believe this project will result in producing the most effective device of the class.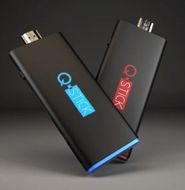 The specialty is planned to be manufactured in two modifications — Blaze Plus and Blaze Pro. The first one got the Atom x7-Z8700 processor (this 14 nm solution has four 64-bit Airmont cores, the 8th generation Intel graphics and the 2-channel controller of the LPDDR3 memory. The 1.6 GHz clock rate may be boosted to 2.4 GHz.
The Blaze Pro version obtained the Atom x7-Z8750 chip with four computing cores, operating at the 1.6 GHz rated clock speed. The ultimate clock reaches 2.56 GHz.
The devices are supplied with 8 GB of RAM, Bluetooth 4.1 and Wi-Fi 802.11n/ac wireless adapters, a slot for the microSD card of up to 128 GB capacity, the HDMI connector, two USB 3.0 ports, the USB Type-C interface, as well as the Micro-USB port.
The Blaze Plus sample possesses the 64 GB flash module, the Blaze Pro model has 128 GB. The dimensions of breloque PCs are 113 × 38 × 12 mm. These computers can be operated by Windows 10, Linux or Android. At present they cost 130 USD and more.