Search for drivers by ID or device name
Known devices: 165022367
Latest known driver: 23.12.2020
PSU Chieftec BPS-650C2 Review
Chieftec, a renowned manufacturer of power supply units, has recently introduced a series of new PSUs, codenamed BPS, which included five different models. The two models differ from other items in color, dimensions, applied fans, and belonging to the lower PSU segment. The other three products belong to the high-end segment and own outstanding characteristics. Chieftec BPS-650C2 belongs to the high-end echelon that is confirmed as by its internal integration, so by general specifications.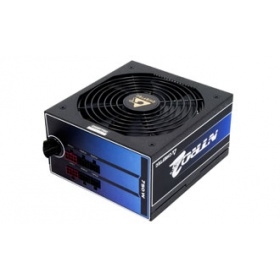 Integration
PSU Chieftec BPS-650C2 employs modular system of cable connection and is notable by 650W of output power. The external design of the model did not outlive any dramatic changes, except for the availability of large stickers on the PSU casing. Quite the contrary, the integration has been given a completely new touch. BPS-650C2 is based on a new advanced platform developed by CWT. The manufacturer employed DC-DC converters for +3.3VDC and+5VDC channels. Those converters are connected to the basic +12VDC line. In addition, one can observe the employment of synchronous rectifiers at the entrance of +12VDC line.
Framework and Number of Sockets
All sockets for the power supply of basic components are located within the casing. Such framework allows the user to remove the unused wire plaits, providing more space within the PSU and carefully arrange all elements. The number of sockets is sufficient for such type of units, however, there are few SATA Power slots. Cable length to the sockets is standard, while the length of cable to CPU power slots are elongated to 60 cm (from standard 50 cm). This way, the length will be sufficient for any chassis with the top PSU localization, and for chassis of midi-tower form factor with lower PSU localization. When it comes about full-tower chassis, the length of cable to the CPU power slots might be insufficient. The overall list of sockets and available connectors is provided below:
— 4 pin peripheral connector: 4 connectors;
— 4 pin Floppy Drive Connector: 1 connector;
— 4 pin 12V power connector: absent;
— 8 pin PCI-E 2.0 VGA power connector: 2 connectors;
— 8 pin SSI processor connector: 2 connectors;
— 15 pin SATA connector: 6 connectors;
— 24 pin main power connector: 1 connector.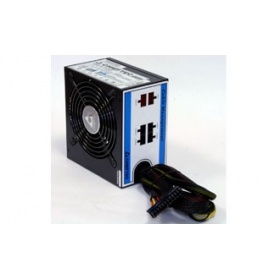 Cooling System
Cooling system of BPS-650C2 is represented by a 140 mm fan (Yate Loon Electronics D14BH-12) and aluminum radiators. The fan is developed on rolling bearing that is called to prolong its lifetime. According to the nominal data declared by the manufacturer, the fan is capable to develop the maximal rotation speed up to 2800 rpm. Efficient cooling down of all internal components is achieved due to the well-considered integration and enough spacing which lower the fan's resistance to the airflow. Thus, the elements of power efficiency adjuster and of main inverter are located on the radiators, while the synchronous rectifier transistors found their places on an affiliate vertical board. DC-DC voltage converters can be found on an additional board with dedicated sockets.
Efficiency Level
Testing results demonstrated that this PSU model is capable to achieve 88% efficiency on 300W loading power. At the same time, efficiency level differed depending on the loading power index. Hence, BPS-650C2 shows 72% efficiency on 50W loading, and 64% on 35W loading. General considerations allow stating that the overall efficiency level is decent for this type of products, however, this index still leaves much to be desired on low loading power.
Noise Level
PSU Chieftec BPS-650C2 is characterized by average noise level on up to 350W loading. When the loading is augmented to 500W, the noise level increases to 50dBA, while on the full loading of 650W this index is surpassed. This characterizes this power supply unit as moderately noisy. In standby mode the noise level is dwindled practically to zero.