Sich Treiber no ID oder den Numm vum Baugrupp
Bekannt Instrumenter: 165022367
Leschte bekannte Treiber: 23.12.2020
be quiet! Dark Rock PRO 4 – Shhh! Super Silent Review
Introduction
A great variety of coolers gives you an opportunity to choose one that fits to your needs and budget. The given cooler is the successor of be quiet! Dark Rock PRO 3 that was released a pair of years ago. It is interesting to note that the price for Pro 3 doesn't decrease with the appearance of a new model. As it must be, the newest model has the best marks for its silence and performance. In general, be quiet! introduced two devices in this series: Dark Rock PRO 4 and Pro editions respectively. They have an improved mounting system making both models easier for assembling and installing.
Main Specifications
MANUFACTURER - be quiet!
MODEL - Dark Rock Pro 4
SOCKET SUPPORT - Intel: LGA1150, LGA1151, LGA1155, LGA1156, LGA1366, LGA2011, LGA2066
AMD - AM2, AM2+, AM3, AM3+, FM1, FM2, FM2+, AM4
HEATSINK - Material: Aluminum (Fins), Copper (Heat pipes & Base)
Dimensions - 162.8 mm x 136 mm x 145.7 mm
Heatpipes - Ø6 mm - 7 pcs
Weight - 1130 g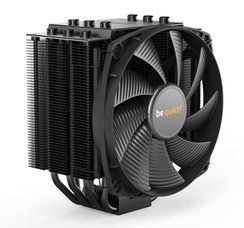 FAN - Model: SilentWings 3
Dimensions - 120 mm x 120 mm x 25 mm
Fan Speed - 1500 RPM (PWM)
FAN - Model: SilentWings 3
Dimensions: 135 mm x 135 mm x 22 mm
Fan Speed: 1200 RPM (PWM)
Fan Airflow: Not listed CFM (max)
Fan Noise: Not listed dBA
FEATURES - Seven advanced high performance copper heat pipes
Virtually inaudible SilentWings PWM fans
250w TDP Dual tower design
Black ceramic coating
WARRANTY - Three year
PRICE - $90
Packaging
The cooler comes in a black box made from thick carton. The only colorful point here is the name of the company. At the box a customer will find images of the device, short descriptions and measurements of the unit. The cooler is surrounded by foam blocks and the user manual is included.
Mounting stuff is in the different box. If you have an idea of mounting an extra fan there are clips for its installation.
Looking Closer
The design is still totally black - practical and stylish solution forever.
It has two radiators, two fans and takes up that cooling performance towards 200 Watts of cooling power, enough for any processor and some tweaking.
Its two silent wing fans: in the middle with the size of 135mm and at the top with 120mm.
The Dark Rock Pro 4 model has a dual-tower design and sitting in-between the two is a PWM-controlled SilentWings fan (135 mm). The solutions have a dual-fan setup in a push-pull configuration and as such you will spot a second SilentWings 3 (120 mm) fan at the outside. They rate up to 1200 and 1400rpm. The pro has seven copper heat pipes and seems to have improved clearance space for DDR3/DDR4 compatibility (compared to the previous model).
A few of the fins on the bottom are not quite as wide either. This design element on the new revision should allow for slightly better memory clearance.
The manufacturers decided to avoid using standard rectangular fins and put to use forty-five airflow-optimized and wave-contoured cooling fins.
The given cooler is rated at 250W. This is enough and to spare for modern processors.
The fins effectively ward off heat from the CPU. The fin stack itself is moved back slightly in order to bring the fan closer to the center of the cooler, and helping with RAM compatibility
To put fan closer to the center of the cooler the fin was pulled back. This also helps to combine it with RAM.
The base of the cooler is polished with nor glossy but nor totally matte finish.
A small amount of thermal paste is present.
Advantages and disadvantages
+ Excellent performance
+ Very Silent
+ Simple installation
+ Top tier build quality
+ Reliable and impressive appearance

- Large and heavy
- Hangs over DIMM slots

For the umpteenth time the be quiet! company warrants its name and maintains its reputation.