Возачи од ИД или име на уред
Познати уреди:165022367
Последната позната возач: 23.12.2020
Deepcool Comes Out with Tesseract SW-RD Chassis
Deepcool Industries Co. Ltd. has expanded its production line with a new mid-tower case, entitled Tesseract SW-RD. The chassis features 472x210x454 mm dimensions and weighs 4.97 kg. It is made of galvanized SECC steel plates, boasting a large side acrylic window & black-and-red frontal frame. The top panel houses I/O panel with a pair of USB ports (both 2.0 and 3.0 versions are available) as well as a couple of audio ports.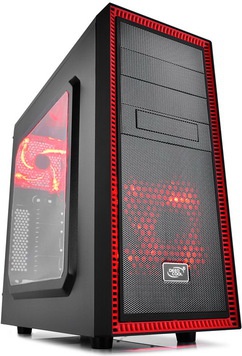 Deepcool Tesseract SW-RD is compatible with mini-ITX, micro-ATX and ATX motherboards. The layout offers two external 5.25-inch slots, four internal 3.5-inch slots, three internal 2.5-inch slots, and seven slots for PCI expansion cards. All the racks are equipped with slides which facilitate installation of drives without any screws.
To continue, the case is ready to welcome 310-mm-long VGA cards, 168-mm-high CPU coolers as well as standard power supply units. The motherboard tray accommodates a dedicated notch that allows installing the CPU cooler without demounting the mainboard. Deepcool has taken care about an optimal cable management within the chassis; with this idea in mind, it reserved some 22 mm of room between the tray and the side panel.
The model comes equipped with two preinstalled 120-mm fans. The frontal one boasts an inbuilt red LED lighting, while the rear one is standard. Besides, there is space for four more fans of the same dimensional type: two side and two top fans. Similar to other solutions, the rear panel features special notches for the integration of water coolers.