Is-sewwieqa mill-ID jew l-isem tal-apparat
Apparati Magħruf:165022367
L-aħħar magħrufa xufier: 23.12.2020
Non-reference GTX 760 Graphics Adapter with S.A.C. Cooling from Elsa
Elsa, a well-known Japanese manufacturer of graphics solutions for PC systems, is going to release its own non-reference model of Nvidia GeForce GTX 760 adapter. Codenamed Elsa GeForce GTX 760 S.A.C., the card is based on an original PCB with PCI-e 3.0 x16 interface. The heart of the model is GK104-225 chip (an estimated performance equals to 2.3 GFLOPS), designed under 28 nm Kepler microarchitecture. It features 1152 CUDA cores, 32 ROPs, 96 TMUs, and runs at the nominal 980 MHz frequency (1033 MHz on overclocking).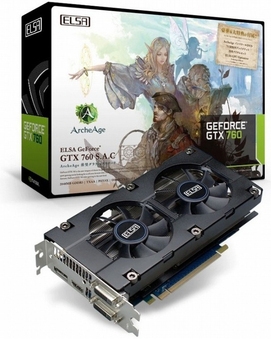 Graphics card GTX 760 S.A.C. carries 2GB memory of GDDR5 type that is equipped with 256-bit bus and operates at 6008 MHz clock frequency (effective index). Power supply process is realized via two 6-pin sockets. It should be noted that this model is known to consume not more than 170 W power. The reverse side of PCB contains video interface panel with four outputs: DisplayPort, HDMI, Dual Link DVI-D, Dual Link DVI-I.
As it's vivid from the codename, this model accommodates a removable two-slot cooling system S.A.C (Silent air-cooling). The cooler consists of a heatsink section, several copper heat pies, and a pair of low-noise fans of 80 mm dimensional type. The latter prove to be 8 degrees colder and 10 dB quieter than the fans incorporated into an etalon model. As a result, the maximal noise level produced by the fans does not exceed 25 dB. Thanks to the removable framework, the system can be easily cleaned up.
Elsa GeForce GTX 760 S.A.C. supports all innovative and effective technologies offered by Nvidia: GPU Boost 2.0, FXAA, TXAA, PhysX, CUDA, SLI, Adaptive VSync, and 3D Vision Surround. What is more, the availability of a client-targeted MMORPG online-game in the nominal delivery set is considered to be one of the attractions relating to the model.