Förare av ID eller namn på enheten
kanda enheter:165022367
Den sista kända förare: 23.12.2020
MSI Introduces the GeForce GT 1030 Low-Profile Accelerator with Passive Cooling
MSI announced a new graphics accelerator – GeForce GT 1030 2GHD4 LP OC. The novelty is intended for modest-sized quiet computers and household multi media centers.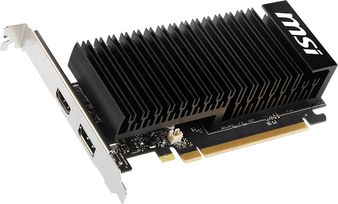 Based on the GP108-310 graphics chipset, this device features 384 streaming processors (CUDA cores), the 1,189 MHz base clock and 1,430 MHz, when boosted. One should note, though, that this card utilizes the DDR4, not GDDR5, memory, like standard GeForce GT 1030 products. The memory is 2 GB (64-bit bus) in volume and operates at the 2,100 MHz frequency.
The main peculiarity of this MSI specialty is its passive cooling system, relying on a big radiator. Owing to this, the video card doesn't produce noise during work. Besides, the maker manufactures its specialty in a low-profile format with such dimensions: 150 × 69 × 38 mm.
Monitors may be connected via two digital interfaces – DisplayPort and HDMI namely. Steady operation of the device is ensured by components of high quality and the Military Class 4 technology applied.
Unfortunately, there is no information on MSI GeForce GT 1030 2GHD4 LP OC cost and delivery launch date.