Search for drivers by ID or device name
Known devices: 165022367
Latest known driver: 23.12.2020
King's on the Footprint: Nvidia Boasts Titan X Adapter
The much-anticipated release of Nvidia's GeForce GTX Titan X graphics adapter has already come true. The new-comer employs the latest flagship GM200 GPU (Nvidia Maxwell architecture) that comprises 8 billion transistors, 24 SMM blocks (each includes 128 CUDA cores and 8 TMUs). As a result, the GPU consists of 3072 CUDA cores and 192 TMUs – a record-breaking layout. The amount of ROPs makes up 96.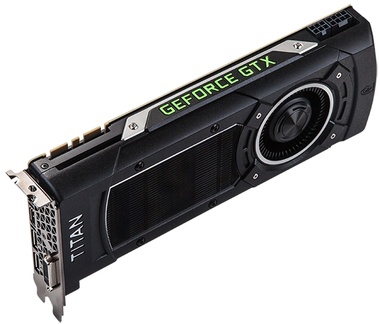 Nvidia GeForce GTX Titan X runs at 1000 MHz nominal frequency but might be overclocked to 1075 MHz frequency. Memory subsystem is compiled of 12 GB of GDDR5 modules which operate at 7010 MHz frequency. The bandwidth index of 384-bit bus approximates 336.5 Gb/sec. Consequently, an overall computation power is estimated at 7.0 TFLOPS.
Cooling is organized with the assistance of a two-slot cooler with a single fan. Connectivity facilities include three video ports: DisplayPort, DVI-I and HDMI. On active mode, the maximum allowed GPU temperature should not exceed 92 C. The utmost TDP level equals to 250 W.
Similar to the predecessors, Titan X supports a range of advanced technologies/standards. The most prominent of them are: DirectX 12, OpenGL 4.5, and Nvidia's proprietary CUDA, SLI, G-Sync, GPU Boost 2.0, GameWorks, ShadowPlay, etc. Pricing is set at $999.