ڈرائیوروں کی طرف سے کی شناخت یا نام کی ڈیوائس
جانا جاتا ہے کے آلے: 165022367
گزشتہ نام سے جانا جاتا ڈرائیور: 23.12.2020
Haswell processors for laptops will consume up to 57 W, desktop - up to 100
Intel provides with three graphics levels: GT1, GT2 and GT3. Desktop processors won't receive graphics performance higher than GT2, but mobile processors will be able to boast of with GT3 class. Support of PCI Express 3.0 for Haswell processors will be quite usual characteristics, but at the memory controller little progress is seen — yet provides dual-channel DDR3-1600.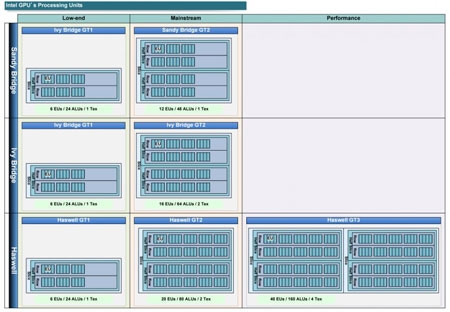 By energy consumption Haswell desktop versions will be divided into models with values of 35, 45, 65 and 95 watts of TDP level. For mobile processors the values are ​​37, 47 and 57 W. Finally, ultra book processors with built-in system logic will be filled by TDP level not more than 15 watts. It is assumed that this will enable them, among other things, be in standby mode up to 10 days without charge.
The desire of Intel to compete with AMD in terms of performance integrated in graphics processor, will add some work to companies producing cooling systems for laptops. The developers report about high level of desktop TDP (100W) and mobile Haswell processors (57 W).
As for the platform in general, the Intel chipsets of 8 Series will slightly differ from its predecessors. Masthead Intel Z87 Express will support six SATA 6 Gb / s and 4 USB 3.0 ports and, otherwise, it will inherit the functionality of the Intel Z77 Express.