司机的身份证或名称的设备
已知的设备:165022367
最新的已知的驱动程序:23.12.2020
Netgear Boasts a New Advanced ReadyNAS Family
Netgear, a renowned designer of high-end network and storage solutions, has recently announced the release of a new NAS family, codenamed ReadyNAS. This family consists of three desktop NAS series (home, corporate and universal) and one rack model of 1U form-factor. Depending on the model, storages are delivered either in diskless configurations or complete with disks. One of the peculiarities pertained to these products is that they operate under a new version of ReadyNAS OS 6 platform.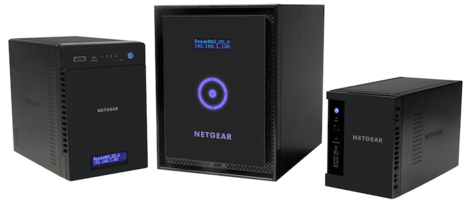 According to Netgear, all the models within the ReadyNAS family are characterized by the implementation of diverse data protection options. Among others, the user will be able to utilize such functions as practically unlimited number of snapshots, replication with monitoring from the cloud, solid-drawn file synchronization due to ReadyDROP, integration with Dropbox, and automatic volume expansion due to XRAID. Besides, all the storages are thought to support SATA hard drives and SSDs.
To continue, entry-level series ReadyNAS 100, including RN102xx and RN104xx models, is intended at home-based customers. It consists of two and four drive bay models which are equipped with Marvell Armada 370 processor (1.2 GHz clock frequency) and RAM 512 MB.
Series ReadyNAS 300 involves models with two, four and six drive bays (RN312xx, RN314xx, RN316xx). It is targeting small-sized companies, as well as home-based users. These storages are based on a two-core Intel Atom processor (2.1 GHz clock frequency) and accommodate RAM 2 GB.
RN516 is considered to be the most outstanding model in series ReadyNAS 500. It consists of six drive bays and is predestined to be employed in large corporate networks, allowing for simultaneous work of up to 250 users. Such unique facilities are ensured by means of a powerful two-core Intel Core i3-3220 (Ivy Bridge) processor with 3.3 GHz clock frequency. Netgear equips this storage with 4 GB RAM. In addition, RN516 is furnished with a sensor command screen.
It should be noted that ReadyNAS 300 and ReadyNAS 500 go with eSATA expansion ports which promote for the volume scaling. Finally, model ReadyNAS 2120 is a data storage system of 1U form-factor predestined for small-sized data centers. It can boast the availability of four drive bays.