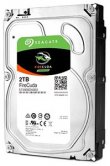 Seagate has expanded its lineup of hybrid drives with the 5th-generation FireCuda SSHD. The greenhorns are based on shingled magnetic recording technology (SMR), rather than perpendicular magnetic recording (PMR). The SMR enables the partial superposition of data tracks; it ensures the ultimate record density. The models are backed by a 5-year's limited warranty.
Seagate FireCuda series is introduced by 5 models, developed in 2.5-inch and 3.5-inch formats. Their capacity varies from 500 GB to 2 TB. The drives employ MLC flash memory (8 GB) as well as SATA 6 Gb/sec external interface. The spindle rotates at 5400 RPM.
The average data read speed makes up 140 MB/sec with 2.5-inch models & 156 MB/sec with 3.5-inch items. The latter offer also up to 190 MB/sec of the average read speed from flash memory; besides, it takes only 8.5-9.5 ms for the chips to search for the needed data on Read/Write operations. To add, the new FireCuda is thought to consume between 1.7-6.7 W power.